Mink Eyelashes Are Not Cruelty Free
Mink eyelashes are not cruelty free. In fact, they are just the opposite! I believe that one of the first local articles I read about this was back in 2012 from Boston Magazine. The article was entitled, "Mink Eyelashes: Buyer, Beware."
The writer, Anne Vickman, was contacted by a salon in Boston and was touting their supposed, "PETA friendly" mink eyelash extensions. Fortunately, like all good reporters, Ms. Vickman first contacted PETA about mink lashes. She wrote that she was, "skeptical — and having a hard time imagining anyone "gently brushing" these relatively aggressive animals (related to weasels and badgers) and returning them to a natural habitat."
Mink Eyelashes Are Not Cruelty Free
I know no one is going to be surprised that PETA responded by writing, "These lashes are not PETA-approved. Even if the companies that sell mink eyelashes claim to obtain the fur by brushing live minks, those minks still suffer on farms and ultimately will be killed for their fur. We encourage consumers to choose alternatives to any materials that are derived from animals, ensuring that they are not contributing to an industry that causes suffering."
As a blogger, I've been contacted to review mink eyelashes. The disturbing thing is that for bloggers, and the general public alike, many companies are usually not the ones that are being blatantly dishonest. Like, I'm sure most of us would not ever buy mink eyelashes in huge lots from China. However, if a United States company was advertising cruelty free mink eyelashes, and was showcasing how they were "featured" in well-know, popular magazines, you might start to believe their claims. First, they'll let you know that you can reuse your mink false eyelashes many, many more times than you can your synthetic ones. Also, they'll let you believe that if you really want natural, soft looking lashes, you should be wearing mink.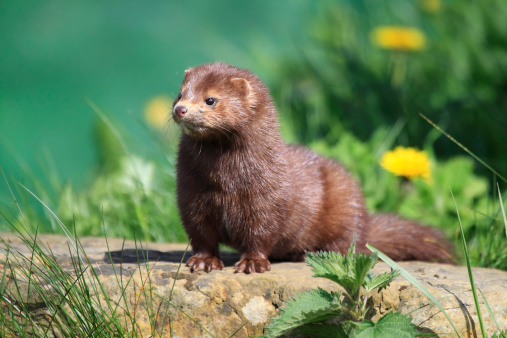 From Gettyimages
I'm not going to show you any horrific photos, or share horrific YouTube videos. However, I am hoping you will think about some things. No one is going to be gently brushing a mink so they can provide you with mink lashes. Also, minks are not like chickens where you could even try to claim that they're peacefully roaming around before they're killed. The claim that there is no harm done to the minks doesn't even make sense. They're captured, and from all that I've read, they put the minks in a very, very small cages that do not even have a floor. It's just metal wires.
Mink is semi-aquatic, so being in a cage means that it's not spending part of its life in the water
The truly horrific footage of how minks are treated, to their eventual (equally horrible) death—by poison, or suffocation, etc. is appalling!
Please, there are enough cruelty free mascaras on the market that can actually make your lashes look amazing. If you want to go for false eyelashes, there are plenty of beautiful, truly cruelty free companies that you can buy your faux lashes from. Georgie Beauty and Ardell are two such companies. I'll have another post about cruelty free false lashes soon. 
Disclosure: I have nothing to disclose.
Moxie Reviews: Twitter , Facebook , Google+, Follow my blog with Bloglovin, Instagram, Pinterest
Moxie Reviews 2011-2016. Content copyright. Unauthorized use and/or duplication of this material without express and written permission from this blog's author/owner, Moxie, is strictly prohibited.